La Paz, Baja California Sur, Mexico - June 6, 2003
Chapter 9 - On Highway 1 through Baja California Sur
After my harrowing experience on the dirt roads of Baja California, I rejoined the pavement at highway 1, which runs intially along the Pacific coast from Tijuana to Cabo San Jose at the tip of Baja California. The pavement is for the most part very good and allows for fast travel. Not that I was going really very fast.
Humberto had told me that Guerrero Negro is a cold place and I thought that his concept of cold may be quite different from my perception. Approaching Guerrero Negro I could see a blanket of grey clouds just to the right of the highway, which would place them a few miles off the Pacific coast and right above the town of Guerrero Negro. To the left, the sky was blue and clear. It was still quite hot, but as I went further south the temperature seemed to drop. From a distance I could see a huge structure, like a tower and a small Mexican flag on a pole. Well, it was small when I first saw it, more than 15km away. The flag was enormous, flying on a high pole beside the strange metal structure, which to me resembled a bird. All of this was enclosed by military barracks, painted in a characteristic dark green colour. The same colour as the impeccably clean uniforms of the Mexican soldiers that man the many military checkpoints along the different roads in Baja California.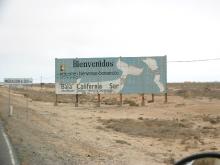 The greeting sign at the entrance to the state of Baja California Sur.

These checkpoints exist to stop the flow of drugs into the United States and people told me that the Mexican army is actually paid by the US to do this work. These checkpoints are more a nuisance than anything else.

Entering the state of Baja Californa Sur, there is yet another checkpoint, where they checked my tourist card. It's weird, because it felt as if I was entering another country. At this point, the sky was overcast and it felt quite cold, maybe around 15°C. I went into the town of Guerrero Negro to find a place to stay. But mostly I needed to get back in touch with civilization, as for the previous week the rest of the world was unknown to me.

Guerrero Negro owes its name to an english boat that sank of the coast here whose name was Black Warrior, hence the same name in spanish. The town is very rough looking with one main paved street where several dusty dirt roads branch off. Though it looks menacing at first, it is a known tourist spot, mainly during the winter months, when scores of Grey whales come from Alaska down south to Baja California to spend their winter and reproduce. The coast just south of Guerrero Negro happens to be one of the whales' preferred spots and so tours are offered to see the whales. Unfortunately, my timing was not the same as the whales'. Apart from tourism, Guerrero Negro has the biggest salt mine in the world. The salt is obtained from the ocean, by using the hot sun out in the desert to dry it out of the seawater.

I settled into a decent motel room, La Ballena, not quite as cheap as I wanted it to be, but it was quiet, clean and safe. Later, I bought a phone card and discovered how incredibly expensive long distance calls are in Mexico. I made a call to Canada and I couldn't even call my parents in Portugal, because the card didn't have enough money on it ($1.50). I guess that's it for phone calls from Mexico and I'll just use the internet.

The next morning, the sky was still grey and it was very cold compared to the rest of Baja. I guess Humberto was right after all. Taking the highway south, I crossed into the Viscaíno desert. The sky cleared very quickly and it became hot after only 15km. This desert looks desolate and bleak to the unititiated, but I found it to be beautiful, specially in some places, where a profusion of cacti would grow. Emerging out of this desert is the oasis of San Ignacio. A small town tucked in a valley filled with palm trees. I stopped for lunch, as the travel guide recommended a restaurant called Rice & Beans, so I thought that they would definitely have some vegetarian dishes. Well, not quite so. First off, the waiter had a hard time with my pronounciation of vegetariano. How many ways are there to say this anyway. Resorting to english and some directions on how to prepare the dish I wanted, he aggreed to serve me. I waited quite a while, entertained by a giant TV screen showing a movie about Mars. Well, the wait was worth it. The cook had prepared tasty enchiladas, just with rice and beans and salsa. After all, that's what their name is about, right?.

After San Ignacio, the road winds through the mountains, past the vulcano of the Three Virgens and emerges smack on the coast of the Sea of Cortés. The contrast of the calm blue water with the brown colour of the rocks and soil is startling. This is where I found the town of Santa Rosalia, which at first glance looks ugly with abandoned buildings strung along the road. But it reveals itself as more interesting than that. Last century, a french company decided that this place was a good spot to explore copper. It built enormous industrial buildings, homes for its workers, taught the people how to bake french baguette, which they still do and even moved an iron church designed by Gustave Eiffel from Europe here. It is still one of the main attractions in town, though I missed it all together as I was busy checking my e-mail and getting in touch with the world at the first internet café in Mexico.

In Santa Rosalia I also met Alex and Gabor, who are both from Vancouver in Canada. They were riding through Baja on pure dirt bikes, a lot more adequate to tackle some of the difficult tracks. They also gave me a very useful tip on how not to loose screws and other items from the bike. By using pieces of rubber from an inner tube as washers for the screws or to tie things down. I followed their advice and tied my licence plate, the rear mudguard, one of the turn signals and several screws. I have not lost anything yet. Thanks, guys!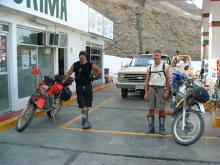 Alex and Gabor from Vancouver, British Columbia.
From Santa Rosalia the road winds along the coast to Mulegé, another oasis set along a river and the Sea of Cortéz. The highway just bypasses the town and it is easy not to stop. Ramon, who I met in Puertecitos had recommended me Mulegé, so I made it my destination for the day. I chose to camp at the RV park called The Orchard. It is located at the southern end of the town just off the highway. It is right beside the river and as a result is very hot and humid. It felt quite tropical and it was difficult to sleep in my tent. Otherwise, this campsite is nice and cheap at $4 a night. The showers are warm and the water pressure is good, something not always the case here in Mexico. Just be sure not to be afraid of cockroaches at night that inhabit the small crevices in the palm trees around the campsite.
It was also here in Mulegé that I first noticed the leaking oil from the left front fork and the leaking valve stem from the front tire. The valve stem wasn't a big problem, as the valve cap kept the leakage to a minimum of about 0.1 bar a day. But the oil leakage left me worried, as I knew that any oil getting onto the brake pads would spell disaster. Now my best option was to try to get fork problem repaired in La Paz. I stopped in Mulegé at a small tire repair shop to see if they could fix the valve problem, but there was no one there, so I left. It seems that in Mexico, people don't really care if they have business or not.
South from Mulegé is Baía Concepcion, an unbelievable place. The road follows the coast along the bay and the view is amazing. The water of the Sea of Cortéz here is a mix of esmerald green and turquoise. There are hardly any waves and the small islands off the coast give this place a feeling of being somewhere else but Baja California. There are several beaches strung around the west side of the bay and most seem to have good facilities. I stopped at a place called Ecomundo, which rents palapas and you can also pitch your own tent for $8 a night. They have a restaurant as well and rent out kayaks, but I ended up not staying here. While I was checking out the palapas on my own, the owner's dog began jumping around me and in the process bit me in the arm. Startled and incredulous I kicked the dog slightly with my boots (he or she didn't get hurt, I did) and went back to my bike. I thought my day was over, as I didn't think I could swim in a salty sea with an open wound. When I prepared for my trip, I brought a lot of medical supplies with me, including band aids, and the travel clinic did convince me of getting the rabies vacination. I never thought I would actually get bitten by a dog.
I got out my medical pouch and proceeded to clean the wound, which looked bad, and apply a band aid. What annoyed me was that the owner didn't seem to notice, not until I told him that his dog had just bitten me. Stray dogs or dogs unleashed is a big problem here in Mexico. All the time, dogs jump out onto the street at the sound of my bike and think they can scare me or worse attack me. Poor animals. If they even tried, I think they'd regret getting aquainted with my aluminum panniers. Note that I don't normally have anything against dogs. I do, when they have something against me.
So, after my scarring ancounter with a dog in Mexico, I left, thinking that now I'd go straight to La Paz. What a bummer, with such a nice bay right here. Well, I did stop at a beach to the south, Playa Armenta. I noticed some tents down there and found the access road, so I decided to stop after all. This beach doesn't really have any facilities, though there are some open pit toilets, some palapas and a small hut from the guy who collects money off people who camp here. When I arrived, the guy wasn't there and thus there was no fee to be paid, as long as I left very early the next morning, which I and two other fellows did.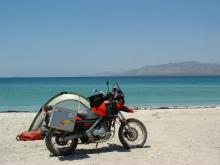 At Playa Armenta in Baía Concepcion.
The beach is very beautiful and it occupies a small bay within Baía Concepcion. Like most days in Baja, it was a very hot day and the only nice place to be was the water, which is tepid and quite shallow. Despite the fact that it was hot, the wind was blowing very strongly from inland. It kept blowing sand into the air into the tents and pretty much everywhere. Without the wind it would have been very nice.
During the day, I could see fish swimming very close to shore. At night, you had to be careful not to step on any crab. The beach would have been idyllic if it weren't for the highway a few hundred metres behind it. Not that there is a lot of traffic here in Baja California, but the trucks use J brakes to slow them down and it sounds louder than a jet engine. This would be illegal anywhere north of the border. Fortunately I have earplugs with me and so any noise doesn't really affect me. During the night I once more saw a clear nightsky with the Milky Way and the Andromeda Galaxy just above. It is an awesome sight. I wonder if anyone is watching our galaxy from Andromeda, thinking how awesome we look (our galaxy is very similar to Andromeda and thus should look similar to what we see of Andromeda).
To avoid paying for camping on the beach, I left early, thinking it was 7am. Actually it was 8am already as Baja California Sur is one hour ahead of Baja and I hadn't change my watches since Nevada. Continuing south on highway 1, I came upon Loreto. Initially I didn't stop, but came back after I realized that I needed gas and otherwise I wouldn't make it to the next gas station. Loreto is supposed to be a nice city, but I just wanted to get to La Paz and fix the problem of the leaking fork.
I left the coastline and crossed the Sierra de la Giganta, a nice mountain range, reminiscent of the desert landscape in southern Arizona. After the mountains, the road flattens out and goes in a straight line to Ciudad Insurgentes. On the road I passed two fully geared cyclists. I stopped at the first opportunity, prepared some lunch and waited to see if they would stop, as I was sure they were on a big journey. Dave and Alexandra, the two cyclists, did stop and they are cycling from Alaska all the way to Tierra del Fuego in Argentina! I think this is awesome. Dave is from the US and Alexandra is canadian from Quebec. We talked for a while and we may see each other on the road from time to time, as they are planning to be in Ushuaia in January next year (I actually met them again in La Paz). You can check out their website at Cycling the Americas.
Dave and Alexandra who are cycling from Alaska to Tierra del Fuego.
The road from here to La Paz is quite boring as it follows inland and is completely straight, until just before La Paz. Once I arrived, I settled at the Trailer Park El Cardon at the entrance to the town. At the campsite I met a couple from Switzerland, who were touring in a VW van they had bought in San Francisco. They were planning to cross on the ferry to the mainland, but ran into bureaucracy and huge costs for the ferry to Mazatlan. Instead they choose to go to Los Mochis, but were only able to leave on Tuesday, some four days after their initial plans.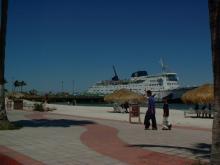 A huge passenger ship on the beach in La Paz. Is this the ferry to Puerto Vallarta, which shouldn't exist?

My plan was to use La Paz as a base to get some things done. First on the list was the fork seal. I went to about every motorcycle shop and mechanic in town. Noone had the right size seal, so I send a message to Steve Johnson, the founder of the Chaingang, asking for some help in locating a place where I could get the fork fixed. Well, he replied and basically offered to send the part from the States down to Mexico.

I also wanted to have some spanish lessons while in La Paz, because I was getting frustrated with the mexicans not understanding me and vice-versa. Because it was the weekend, I figured I wouldn't get much done, so I left for Los Cabos further south down the highway. First, I had to navigate the roads of La Paz, which isn't too complicated, but there are hardly any signs anywhere, making it very difficult. To add to this, it can be a harrowing experience driving in Mexico. Some intersections have four way stop signs, but I think that mexicans don't really understand the meaning of stopping. The signs are also sometimes very hard to see and a few times I had to brake hard to avoid running through the intersection. Worse are the tiny traffic lights, which during the day are almost impossible to see. The streets more often than not have no signs, making any navigation difficult. And to top it off, a few one way streets have no signs saying they are one way! I managed to drive twice through one way streets in the opposite direction. Thus as a rule now, I come to any intersection and slow down to check for stopsigns, traffic lights and if I have to turn into an unknown street, I check for the oncoming traffic and how cars are parked to avoid going the wrong direction. If I'm in doubt, I don't enter the street.

Well, I made it sound as if traffic here is very bad. It's ok, as long as you keep your eyes and ears open and stick to a few rules, such as slowing down when something doesn't seem right.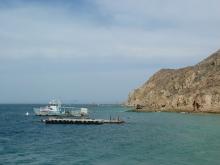 Land's end at Cabo San Lucas. The end of the road in Baja California.
From La Paz, I went straight to Cabo San Lucas, passing through the town of Todos Santos. This appeared to be a nice and quite little town, though I didn't really stop here. I didn't stop in Cabo a whole lot either. I went as far as the road goes, which is past the marina down to the beach by the naval station. From there you can see the beach in front of the town and the cape itself. It looks very touristy, except the place where I was, where mostly mexicans were. I took a few pictures and headed back north, planning to camp somewhere around Todos Santos.
I saw a sign saying Surf & Skate Camp, advertising camping and I went to check it out. The sign led to a gate and inside was a patio with a swimming pool and a few palapas around it. I went inside, but there was noone to be seen, except a camper who told me that the owner, Anita, was down the road in town at the huge opening party of a new skate rink that they had built. So, I went there and obviously there were lots of people, mostly a young crowd. I asked around, but wasn't very successful in finding the owner, thus I went back to the campsite and decided to pitch my tent anyway. At some point the owner ought to show up, right? Eventually she did and it was ok to camp there for 70 pesos ($7) a night. There was nobody else and the next day I had the swimming pool all to myself and it was a very nice swimming pool also.
I left the very next day heading back to La Paz and the campsite El Cardon, where I once more met the swiss couple who hadn't made it to the ferry yet. Maybe mañana. I also hoped to arrange for a spanish language course the following Monday.